Kiteboarding (also called kitesurfing) is relatively new sport that exist not more than 30 years, but only last 20 years commercially. This sport is however quickly finding new fans all around the world and even got it's spot on 2024 Olympics games. It's a wind-based sport and usually performed on the water and it's appeal is also beautiful beaches, where you can kite. In brief, kiteboarding is not only a great fun, but a perfect way how to travel and explore new amazing places all around the world.
WHAT KIND OF SPORT IS THIS?
Kiteboarding is a sport where you ride on the water with a board similar to wakeboarding and propelled by kite in the air. Rider controls the kite by the bar, which is connected to his body via harness. Our movement in kiteboarding is similar to moving of the sail boats, we are dependent on the wind. We move by crossing the wind to the left or right tack. We can also ride upwind or downwind by maneuvering the board. While moving downwind is relatively unlimited, we can only go upwind in about 30 degrees, so larger upwind travels are done by zig-zag method.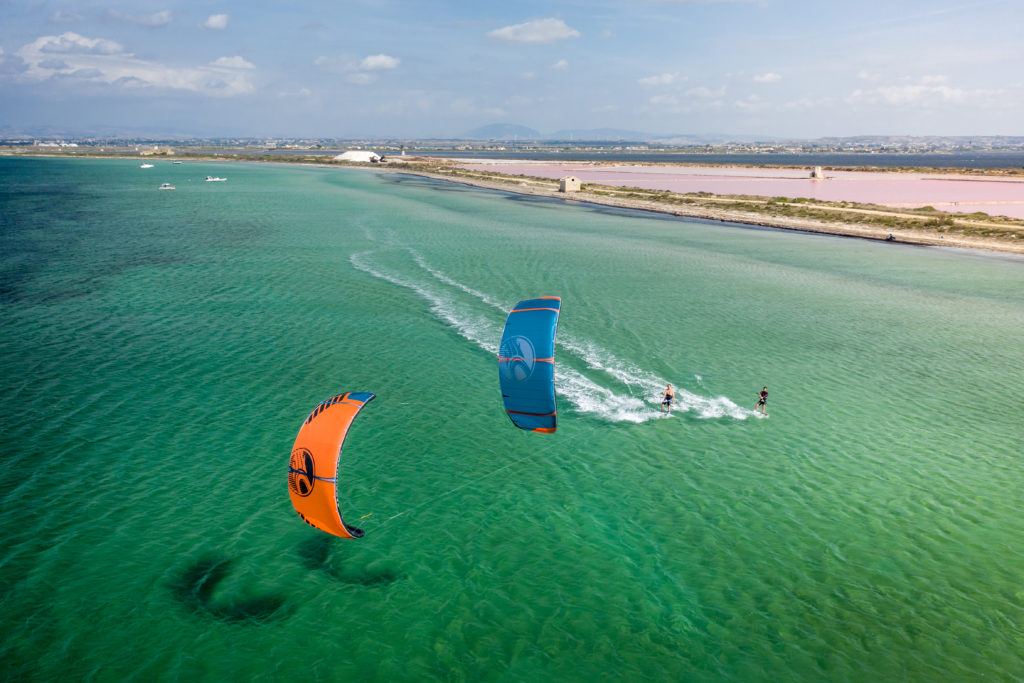 WHAT GEAR YOU NEED?
For kiteboarding you first need a kite, those comes in various sizes depending on wind strength, rider weight and his discipline. The kite is connected to the rider with the bar that has 20-25m lines and finally bar is attached to the riders' harness, making it very easy to hold the power of the kite. Under our feet we have a board that can come in various shapes depending or riders style – twintip for freeride or freestyle, surfboard for waver or foil for lighter winds. And depending on weather rider can use wetsuit or various accessories.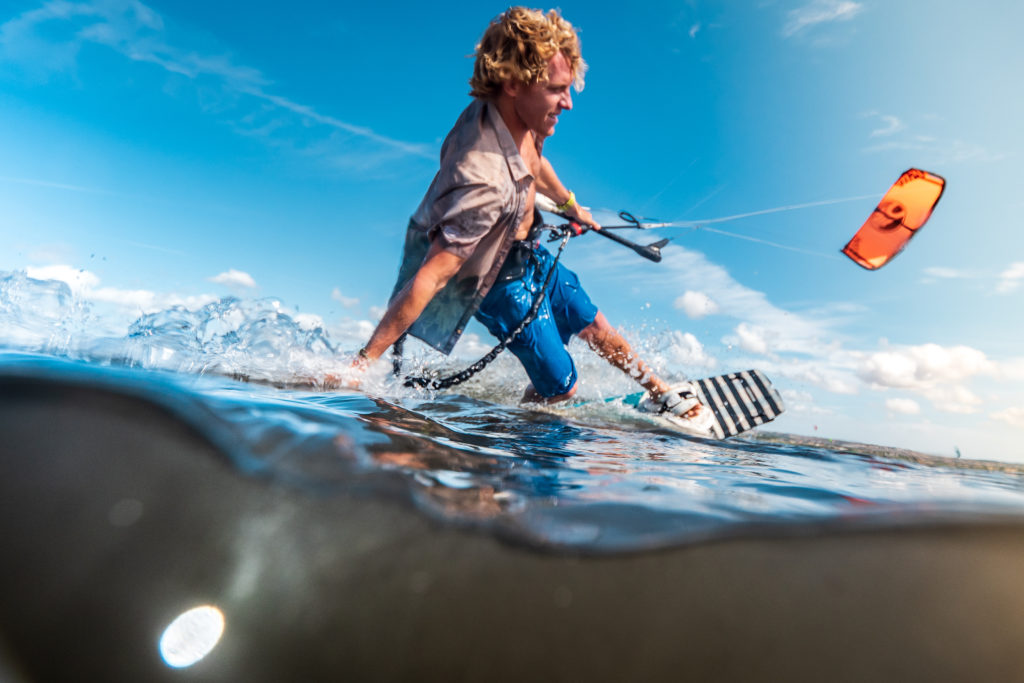 WHAT CONDITIONS YOU NEED?
First, we need the wind. Ideal place for kiteboarding is where the wind blows consisted every day and is not obstructed, so the pull is very smooth and predictable. Depending on style, riders seek different strengths of the wind, from light wind for foil and wave riders, to moderate for freestylers up to strong winds for extreme big air riders.
Kiteboarding can be performed on various surfaces like land or snow, but for now, lets talk about water. Depending on style riders choose to ride in various conditions: Wave and big air riders like to have some waves, while beginners, freeriders and freestylers would prefer flat and shallow water where is easy to rider and walk around. Especially beginners seek places with shallow water, so their learning process is very easy and safe. Riding flat water can be compared to ride groomed slopes at 8am, simply a pleasure and perfect to do any tricks, choppy water is also doable but less pleasant, something like bumpy ski track at 3pm. Lucky for us in ProKite Alby Rondina in Sicily, our lagoon offers 2000 hectares of flat and shallow water, which makes it a very unique place in the world.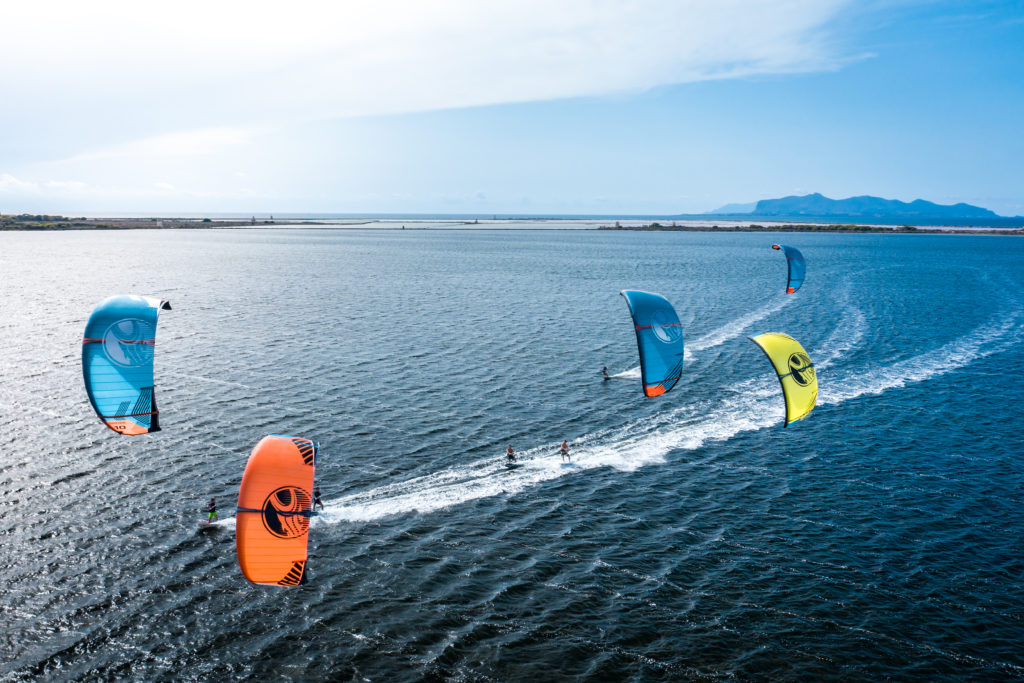 IS KITEBOARDING DANGEROUS?
People often ask, weather is kiteboarding dangerous – the answer is no, unless you want it to be. If you learn with professional instructor and at the safe spot, there are minimal dangers. If you later obey the rules and safety regulations, kiteboarding is safer that any other sport. In fact, it is much more common to have minor injury playing team sports like football, then riding a kite. However, if you do not respect the rules or ride in dangerous spots, kiteboarding can pose a serious threat, so always inform yourself before going to the water. Think of it like a driving a car – you would not let a beginner to ride in a traffic unsupervised. And if the danger is what you want, extreme kiteboarding can offer a plenty of risk. Also, competitive freestyle tricks takes a huge toll on your body and if you ride big waves or big air in strong winds, risks goes gradually up. But it is your choice in which condition you want to ride, bottom line is, kiteboarding CAN be very safe.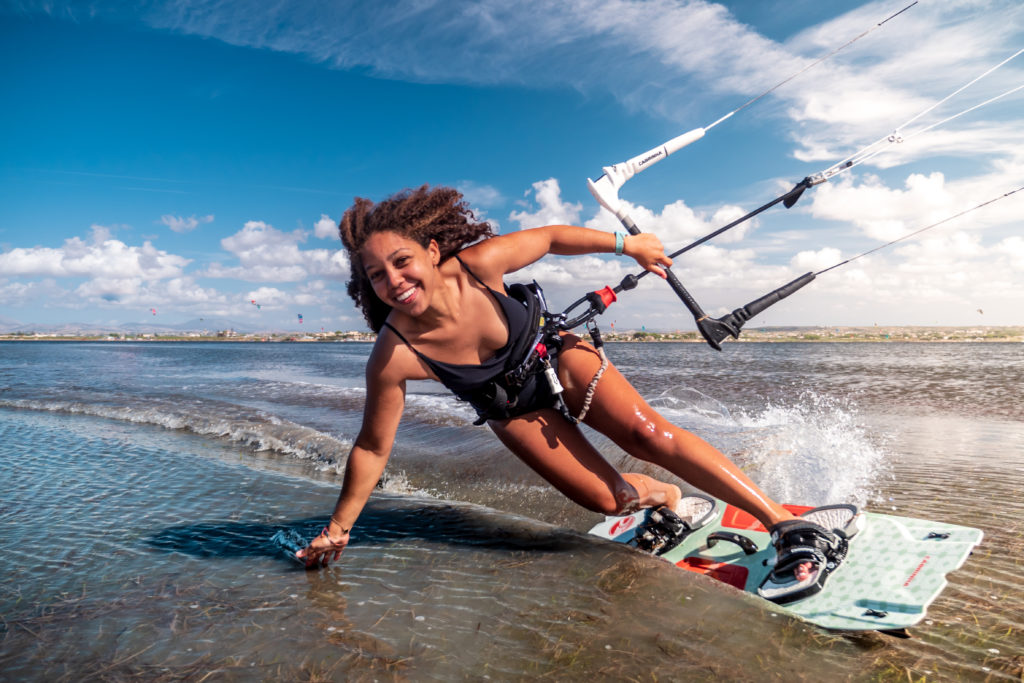 DIFFERENT DISCIPLINES IN KITEBOARDING
One of the best things about kiteboarding its diversity of its disciplines. There is enough styles for everybody's preference: from freeriding and exploring the spots, competing in race slalom to freestyle which comes in various forms, like old school where you do high spins and board off tricks or wakestyle where you do unhooked air tricks similar to wakeboarding, but also riding waves in the same way as the surfers, or boosting high and performing risky megaloops in stormy conditions. There are many new disciplines emerging like foil riding in light wind, strapless freestyle on flat water or park riding on obstacles. Possibilities are limitless and it makes kiteboarding a great sport that can never become mundane and boring.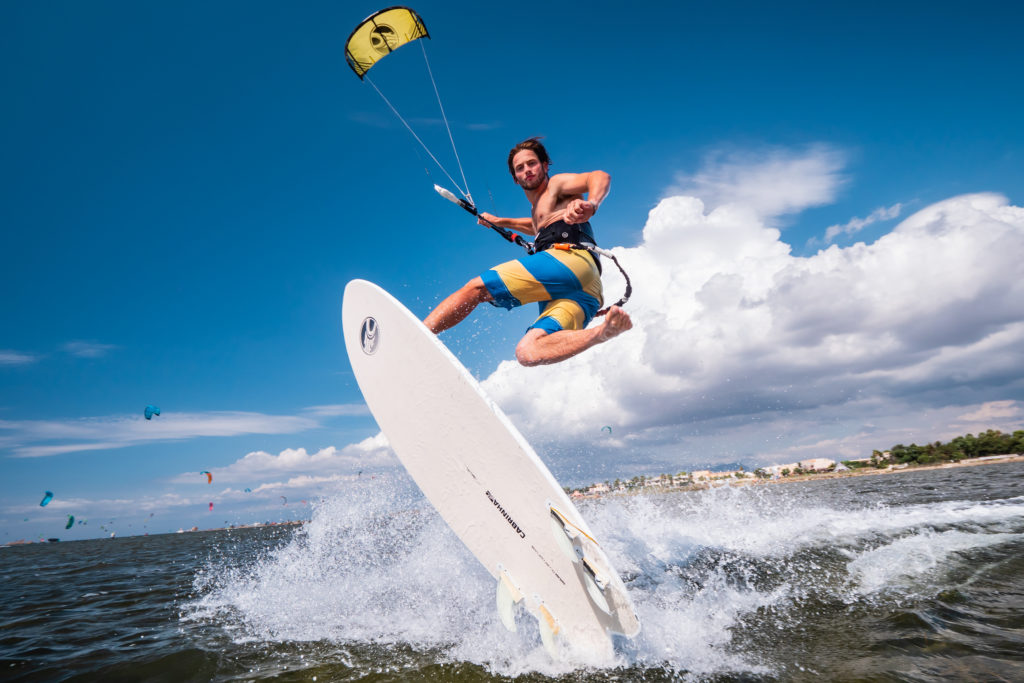 HOW TO LEARN KITEBOARING?
Hopefully by now you are asking yourself: ok, how to learn it?! Unlike different board sports where you can just pick up the board and try it, in kiteboarding you 100% need to learn with professional instructor, not even with some friend who has some riding experience. Learning on your own or without skilled instructor can be very dangerous, but luckily you can find kite schools in every good kiteboarding spot around the world. Of course not always you find perfect conditions and you have to tackle with the deep water and waves, but those schools argument is that after learning in harder conditions, you can ride handle riding everywhere in the world. This might be true, but I personally would recommend to choose easy and safe place where you can learn much faster and then progress into more difficult spot, if you wish. That's why we opened our kite school ProKite Alby Rondina in one of the best places in the world in Sicily, where we have massive lagoon with shallow water and constant wind almost every day.
Kiteboarding lessons starts at the beach with a brief theory and gear overview. After that we go straight to the water, but don't expect to be riding yet. First, you have to learn how to control your kite and pick it up from the water after crash. Later you learn how to be pulled with the body in the water, called body drag. Only when you have good kite control you are ready for your first water starts, where you have to combine you body and kite movements. If you want to progress fast, I highly recommend trying wakeboarding at your local cable park before taking kitesurfing lessons. You will learn the body movement, which will make your waterstart progress much easier and faster. After your waterstarts you still have to master basic maneuvers like going upwind or turning, but you are pretty much set to ride on your own and try any of the various disciplines.
HOW MUCH IT COST?
Question we often get is "How much it cost?!" And the answer is, like with the purchase of the car, very difficult. For example our Beginner course cost 350 Eur and depending on how skillful you are you may need additional lessons or rent afterwards, which cost about 70 Eur per day. If you want to learn how to ride, you can estimate cost about 500 Eur. Afterwards you can keep renting and always ride on the latest gear wherever you travel, or purchase your own gear which will cost you anywhere between 500 to 2000 Eur, depending if you buy new or used gear, which brand and how many kites.
Ok guys, so I hope I was able to get you the general idea what kiteboarding is and get you all excited to try. And if you decide to pick this amazing sport, we will be very happy to welcome you here in Sicily at ProKite Alby Rondina, just head over to our web www.prokitealbyrondina.com for further information and bookings.