In the last 5 years Lo Stagnone has become the most popular spot around Europe for a perfect flat water conditions. This is thanks to its close proximity to Europe, steady winds all year long but mainly by 2000 hectares huge natural flat & shallow lagoon. During the season wind can blow from all directions, however prevailing ones are from North (almost every day in summer months) and South, with few exceptions of West wind.
One of the most interesting thing about the lagoon is diversity of the spots you can find around. Of course, 90% of the kiters will freeride close to the main beach next to the ProKite Alby Rondina kite center, but if you are brave and kite little bit further you can find really exceptional spots to ride. Of course, you need to know where to go and in which wind direction so in this short guide we would like to show you our most favorite spots.
ProKite Alby Rondina Center
For sure the first place where you will kite will be the beach just in front of the kite center. This spot is the perfect place for the school because it works with all wind directions. Water is shallow which makes it ideal for students, but of course that means less space for more advanced riders. Fear not, students usually stays close to the shore so if you kite a bit out you will find a lots of space. But if you want really extraordinary experience, you will have to "break out of the crowd" and venture to one of the spots mentioned below…
Works with wind direction: All directions
Perfect for: Easy freeride, beginners, big air in strong wind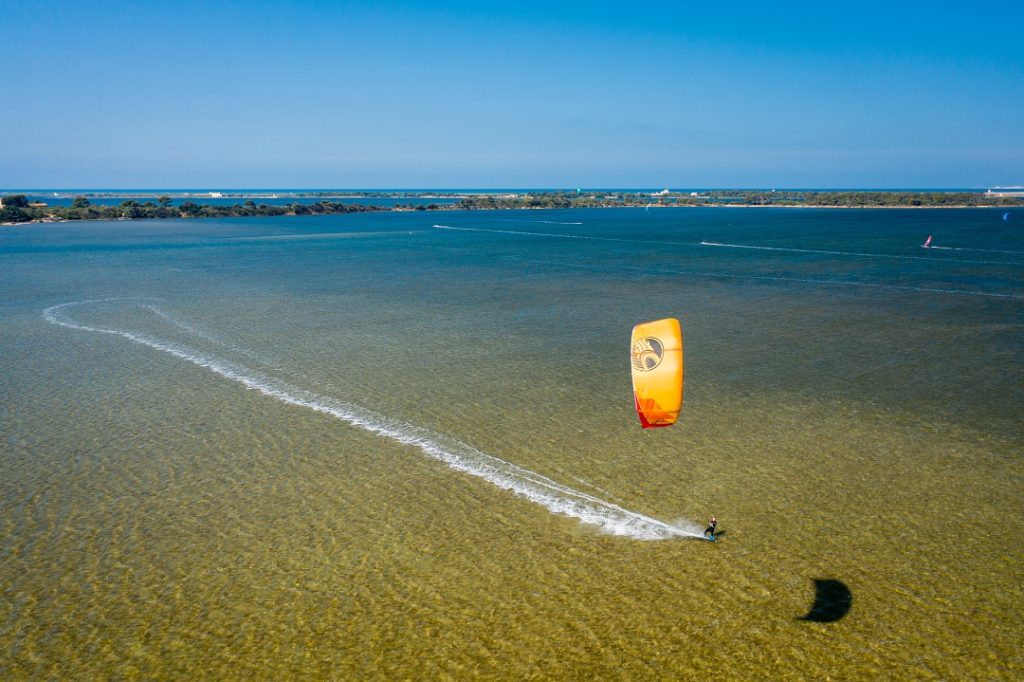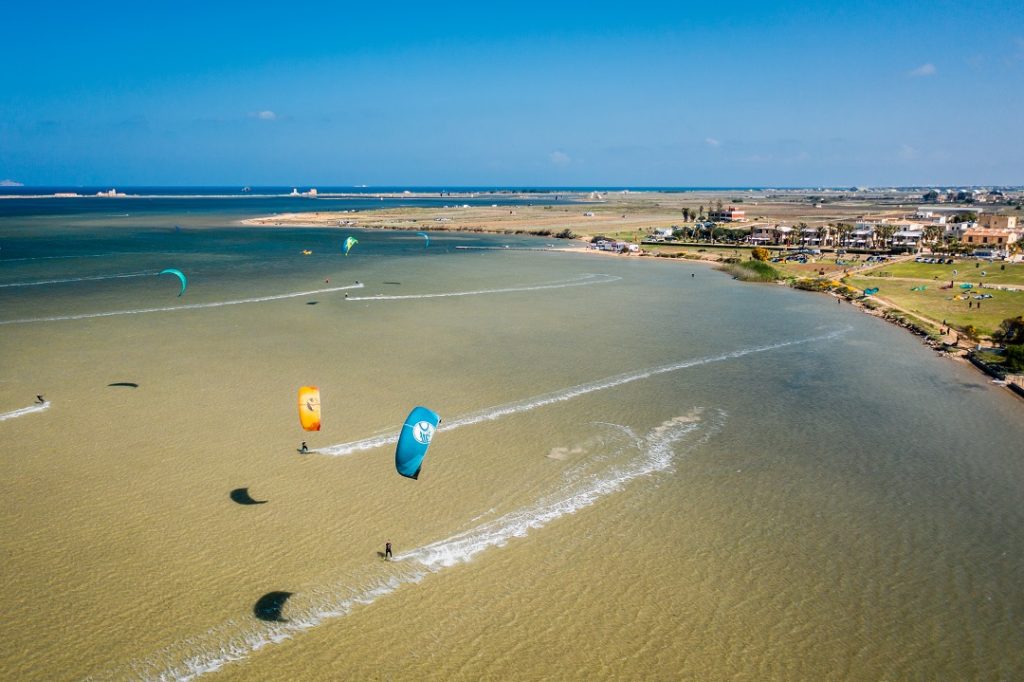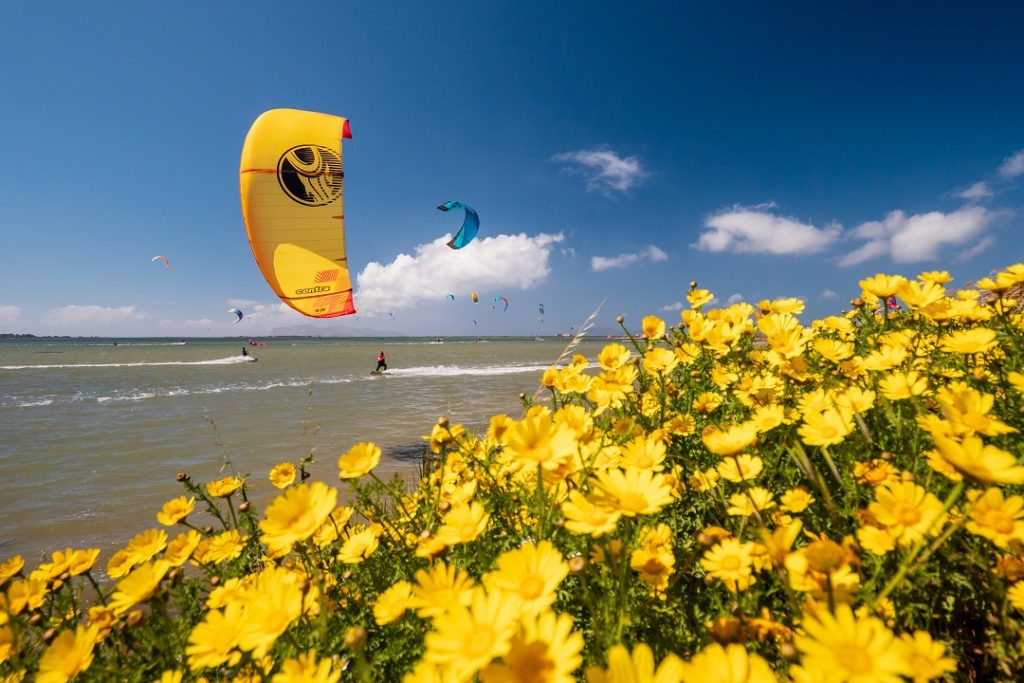 Island Santa Maria
Just a few tacks upwind from the main beach you can find the cape of the thin Santa Maria island, where sandbank comes out and created perfect flat water for freestyle. This spot is really close from the main beach (just one ride downwind) so it's a perfect place to train your freestyle tricks. At the first sight water may seem too shallow, but if you try to walk on it you will find deep mud so crashing there is very safe. Just don't jump too close to the island, there might be few rocks so check your place first.
Works with wind direction: North is the best
Perfect for: Short freestyle session for butter flat water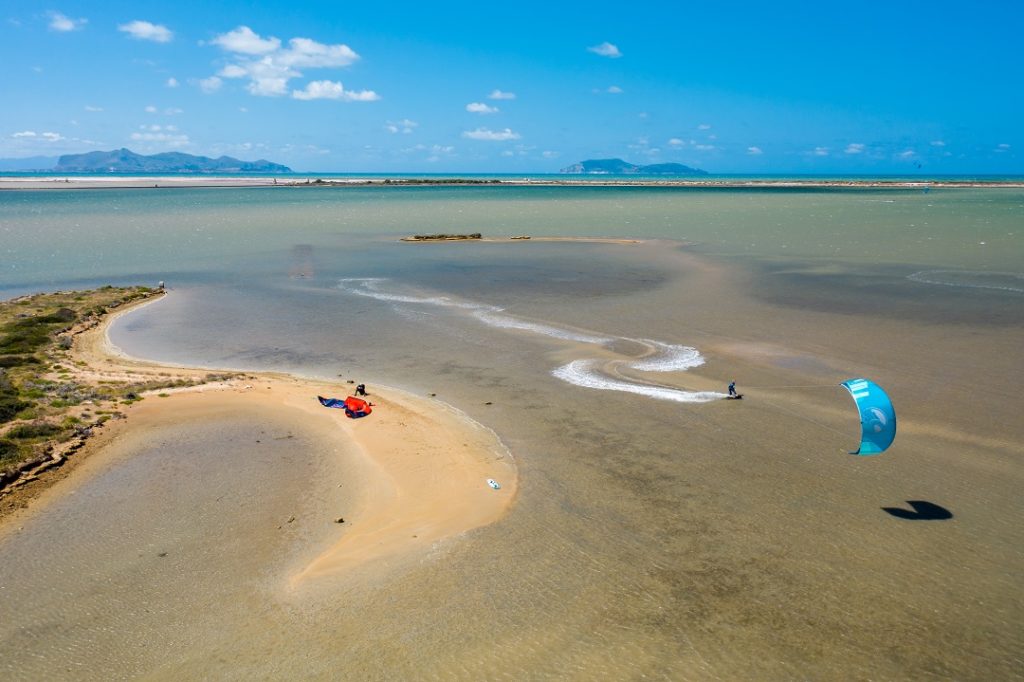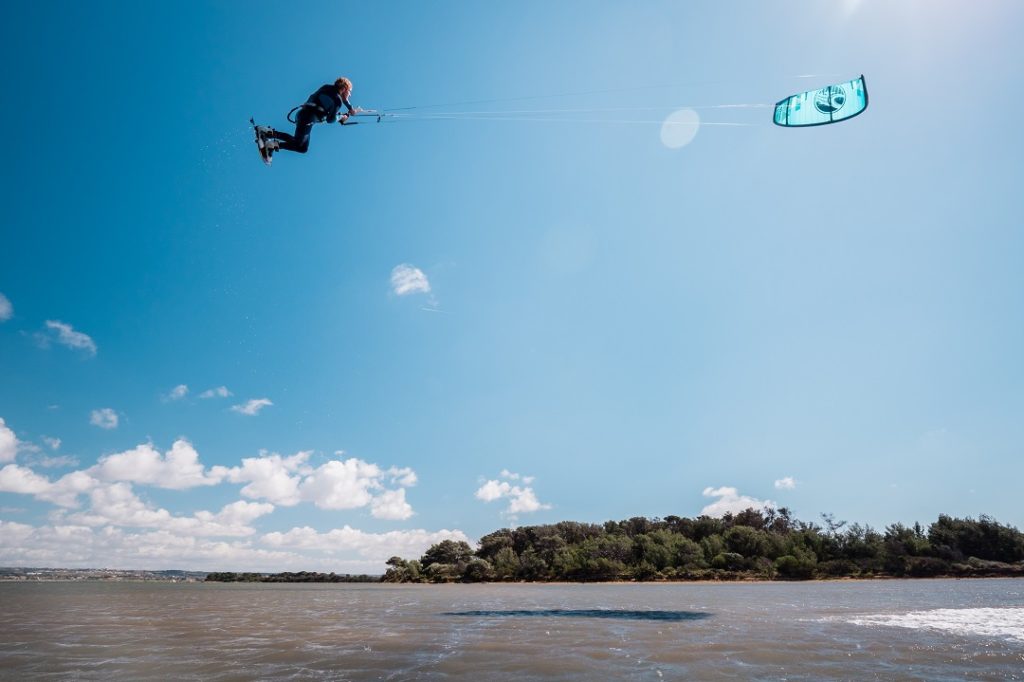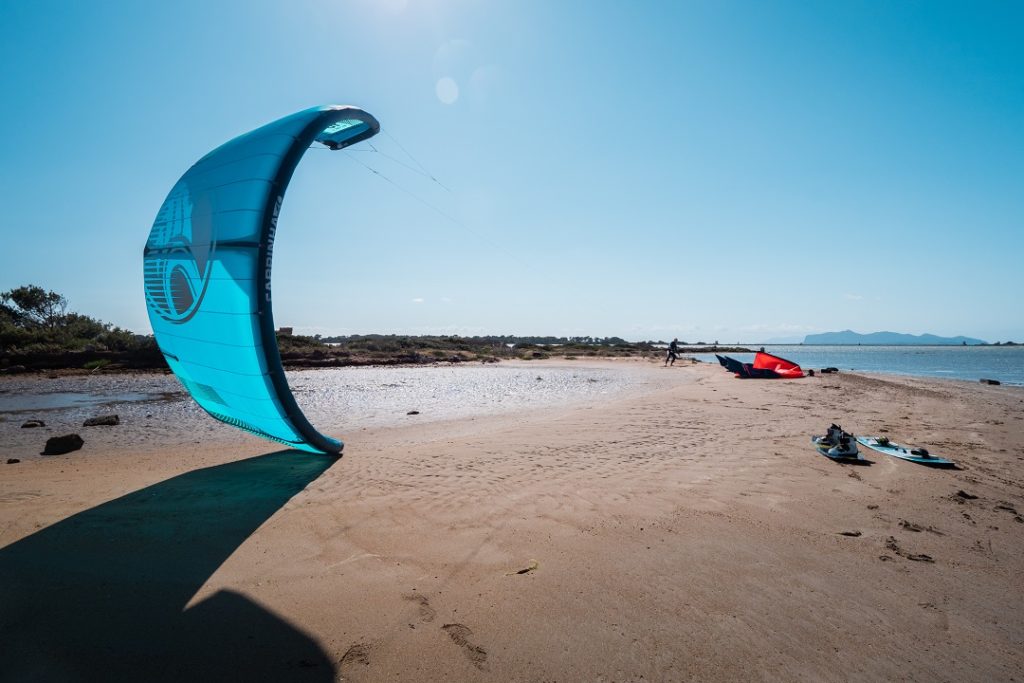 Behind Santa Maria
If you cruise just behind the Santa Maria island you will find yourself in another world. Suddenly you will escape 99% of the crown and will be surrounded by beautiful vegetation and small sandy beaches. During the days with reliable wind (north or sound) take a trip around this island with your friends (for safety never alone), trust me. On your way you will find many interesting sights, little spots, sunken boats or old Salinas and windmills. The best way how to make a round trip is to start upwind and then enjoy the downwind run behind the island. Take care when you will be crossing the island on the downwind side because it will create wind shadow, best is to get some distance and cross it more downwind.
Works with wind direction: North and South
Perfect for: Cruise with friends, photoshoot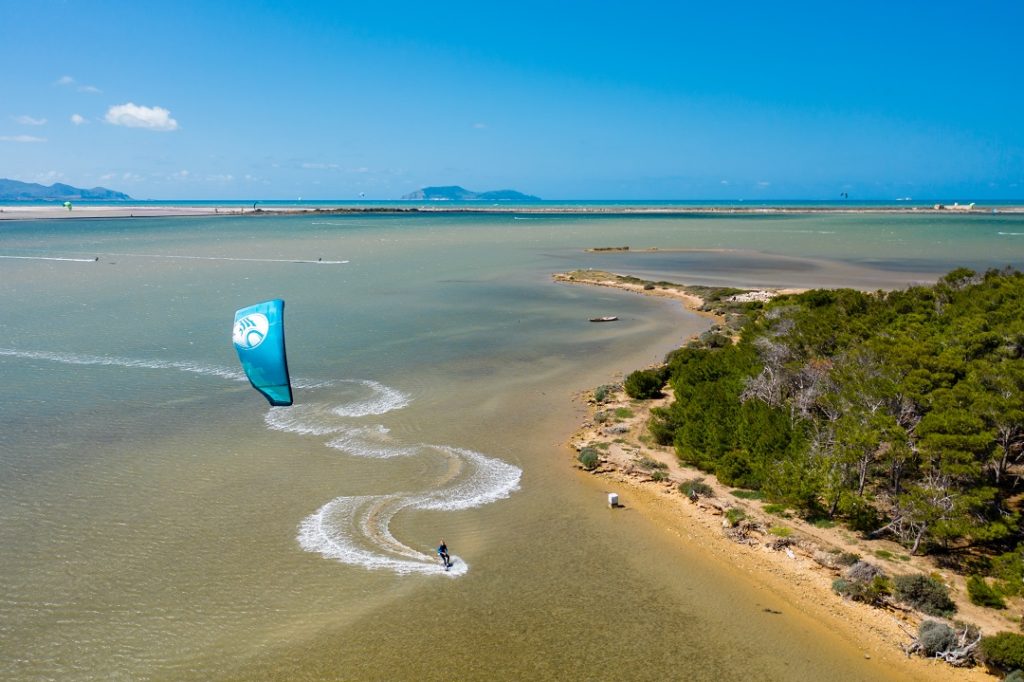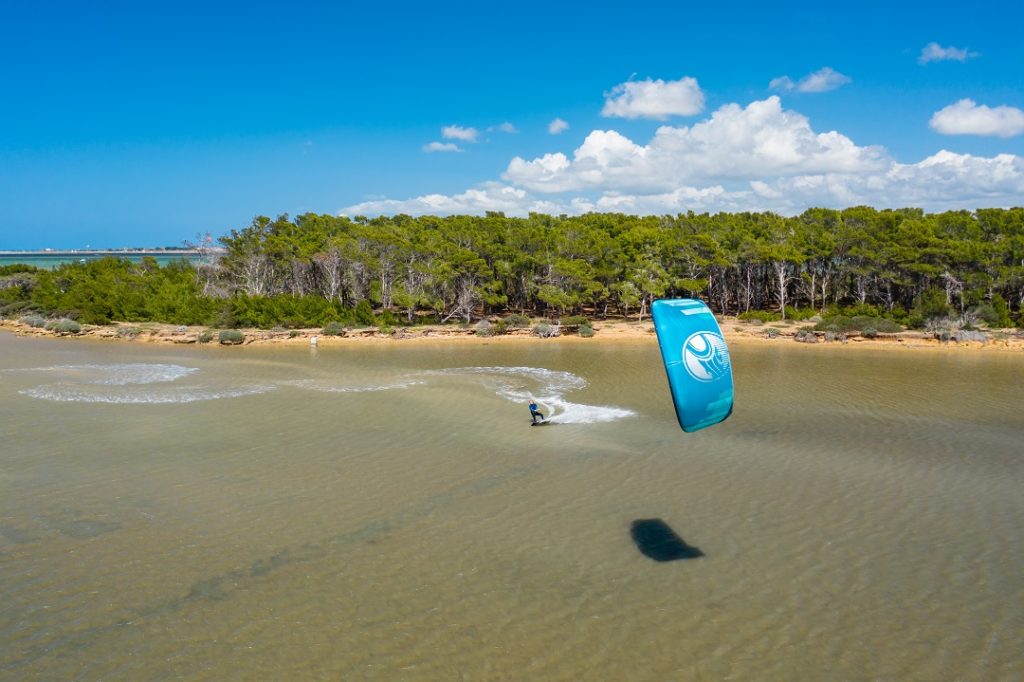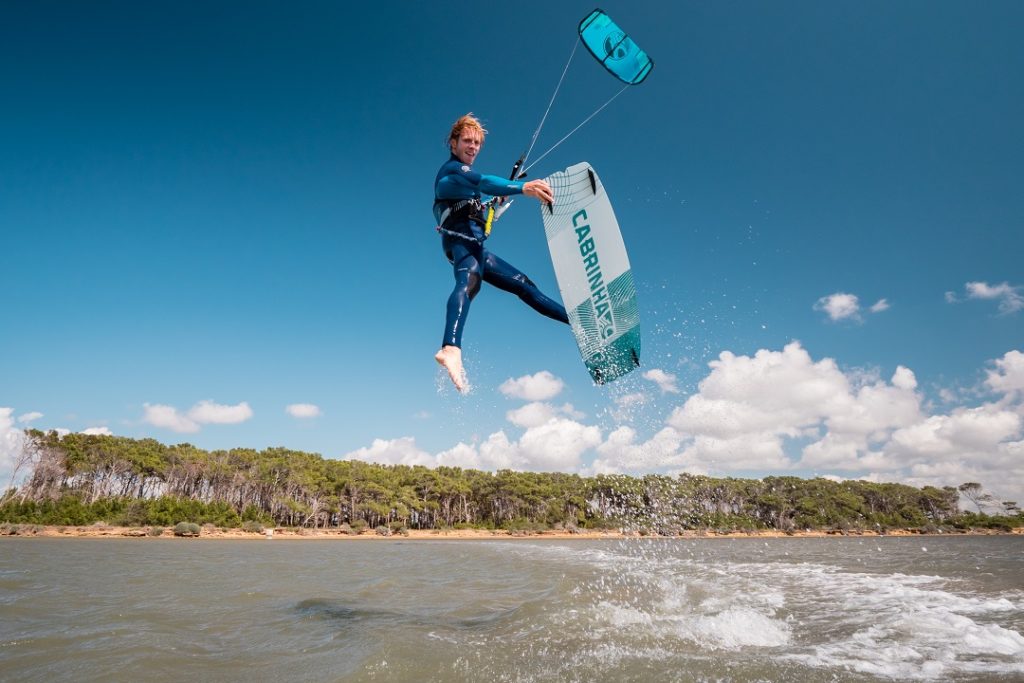 San Theodoro
North entrance to the lagoon from the sea is really special place where turquoise sea water meets the lagoon, easily the best place to snap a drone shot! We admit that the water here can get shallow and together with sand it's quite sketchy for freestyle tricks so take care! On a right day you can even have a small wave on the entrance that you can use as a little kicker for the tricks.
Works with wind direction: All directions but best with North-West and South-west
Perfect for: Freeride in beautiful turquoise water, small kicker waves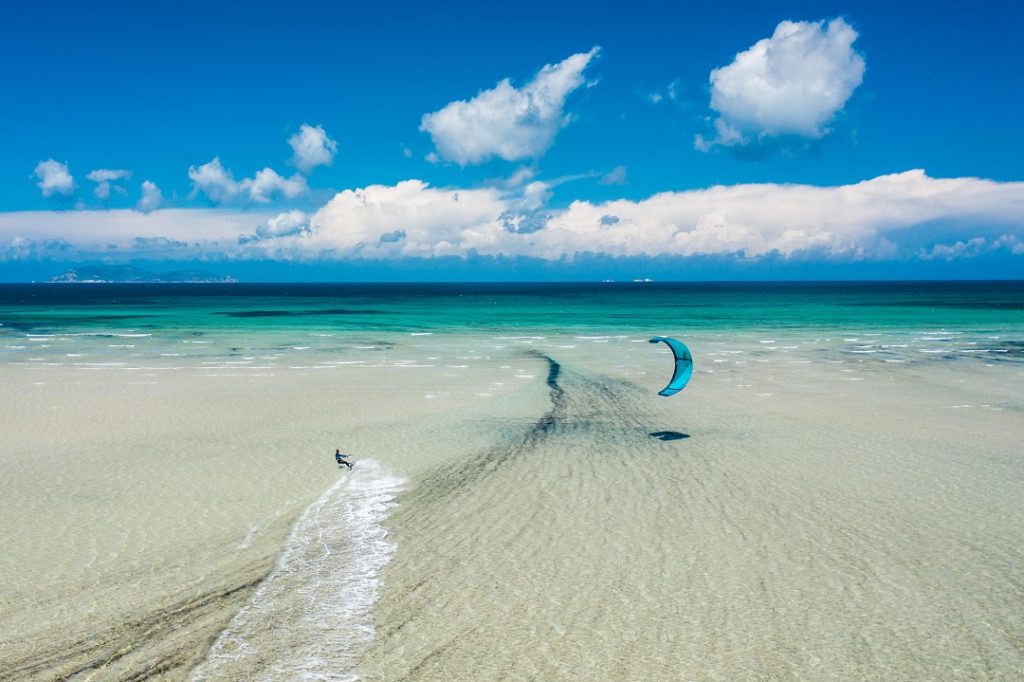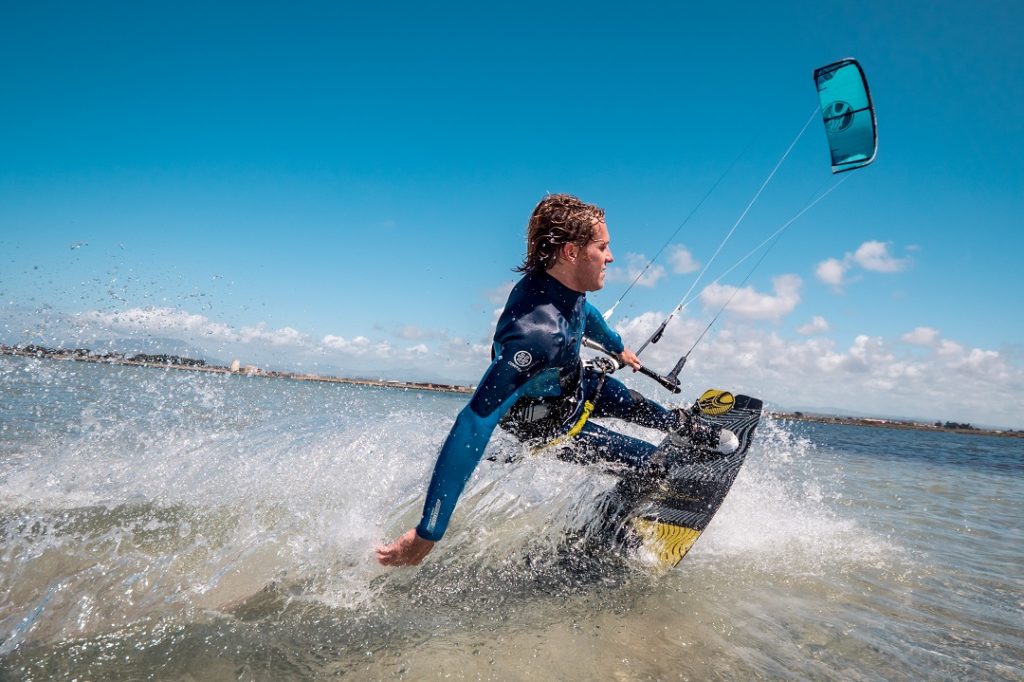 Salinas San Theodoro
Around the north entrance to the lagoon you can find many Salinas where local produce salt. Those little ponds are turning pink sometime around august-september but beware, it's illegal to kite inside of them and locals will get angry very fast, since it's polluting their production. Anyway, behind salina walls in the lagoon water is perfectly flat so you can enjoy truly extraordinary condition. Remember how Aaron Hadlow kept you craving for a mirror flat water in his video from Sicily "Reflection"? You can do it as well exactly here.
Works with wind direction: North (Salinas close to mainland) and West (Salinas close to Isola Lunga)
Perfect for: Freeride on absolute butter flat water, freestyle, jumping around wall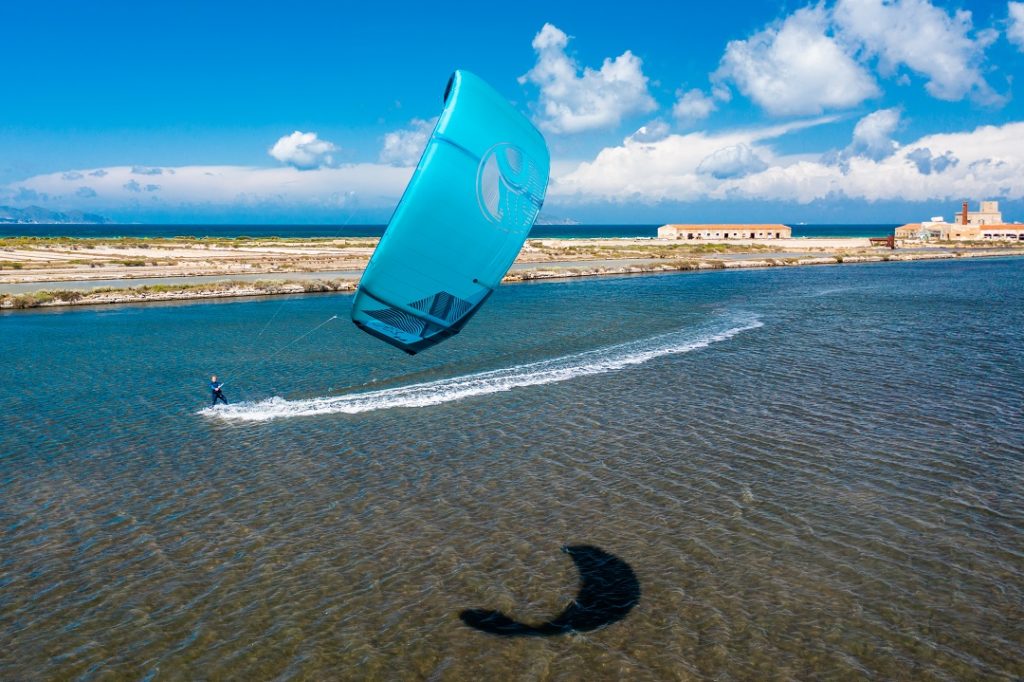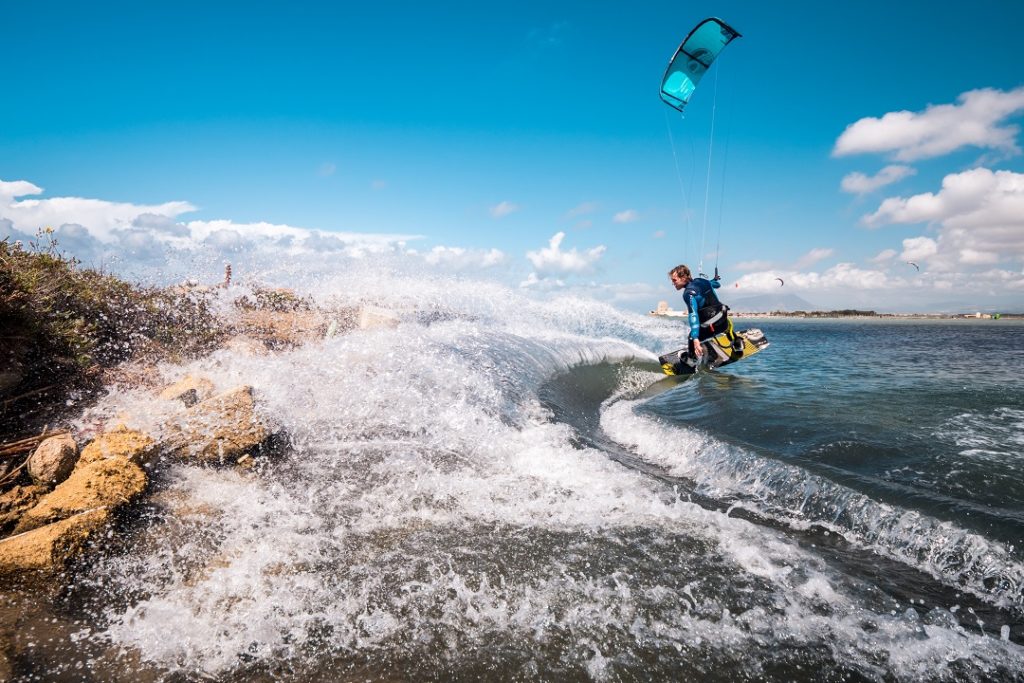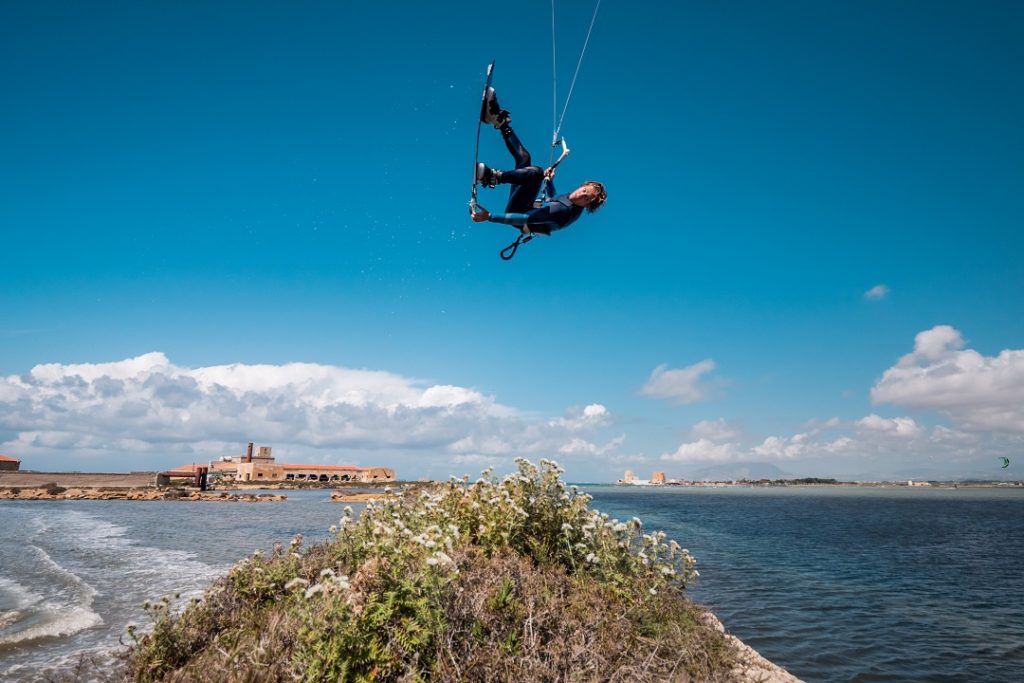 Isola Lunga
If you want a real adventure then head for Isola Lunga on the opposite side of the lagoon. You can find many flat water spots around with butter flat water, but our favorite one is this broken salina wall with old windmills in the background. There is no vegetation upwind from it so the wind it perfectly steady and you can even enter the broken salina and make some extreme jumps over the wall. But take care, you will be quite far from the main beach so in case of emergency you will be on your own. We recommend this spot only for advanced riders, always go in the group and take it easy.
Works with wind direction: All directions but best with North-West or South-West
Perfect for: Freeride and Big Air on butter flat water, adventure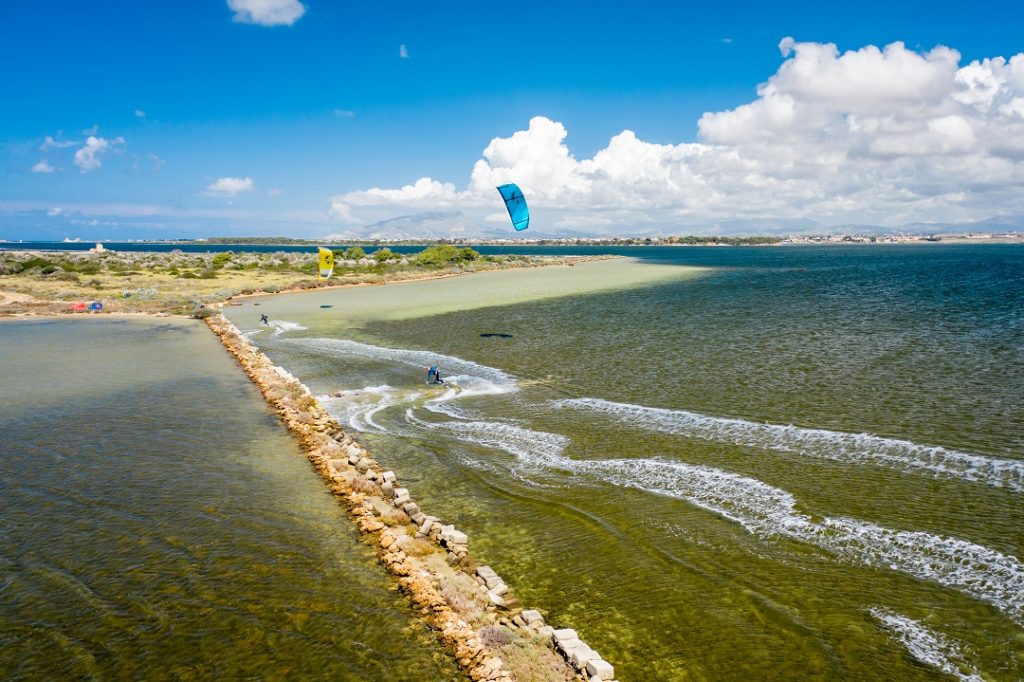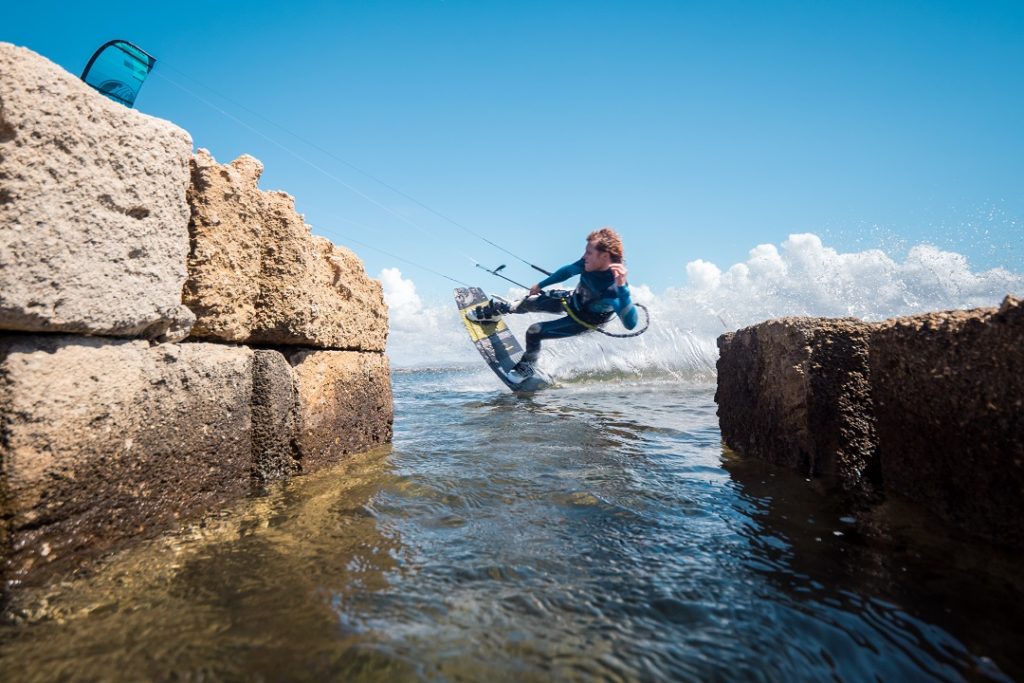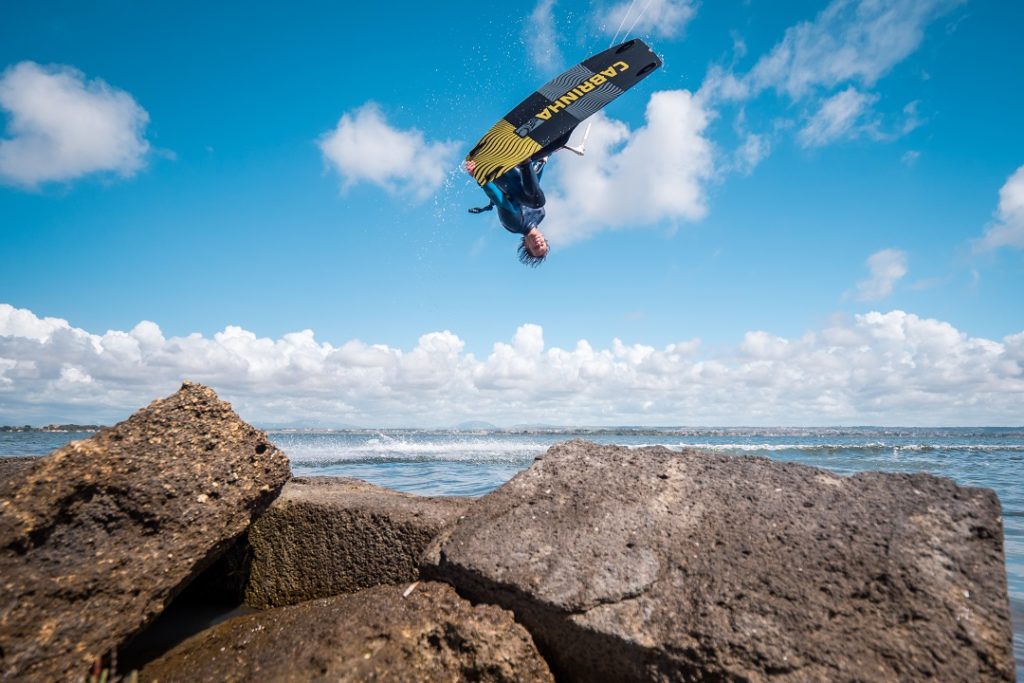 Tahiti
"Tahiti" is hidden jewel in Lo Stagnone lagoon. It's located outside, north from the lagoon on the open sea and it works with the south wind. Water here is, again, butter flat but with one small but noticeable difference – beautiful turquoise color. We had some of our best sessions here, filmed many videos and in general had tons of fun. This spot is also recommended only for more advanced riders since it's offshore on open sea. You can get here by kiting around San Theodoro entrance or you can rent a small boat at San Theodoro marina and have an easy and safe trip.
Works with wind direction: South for flat water, North for waves
Perfect for: Epic turquoise flat water, freeride, freestyle and big air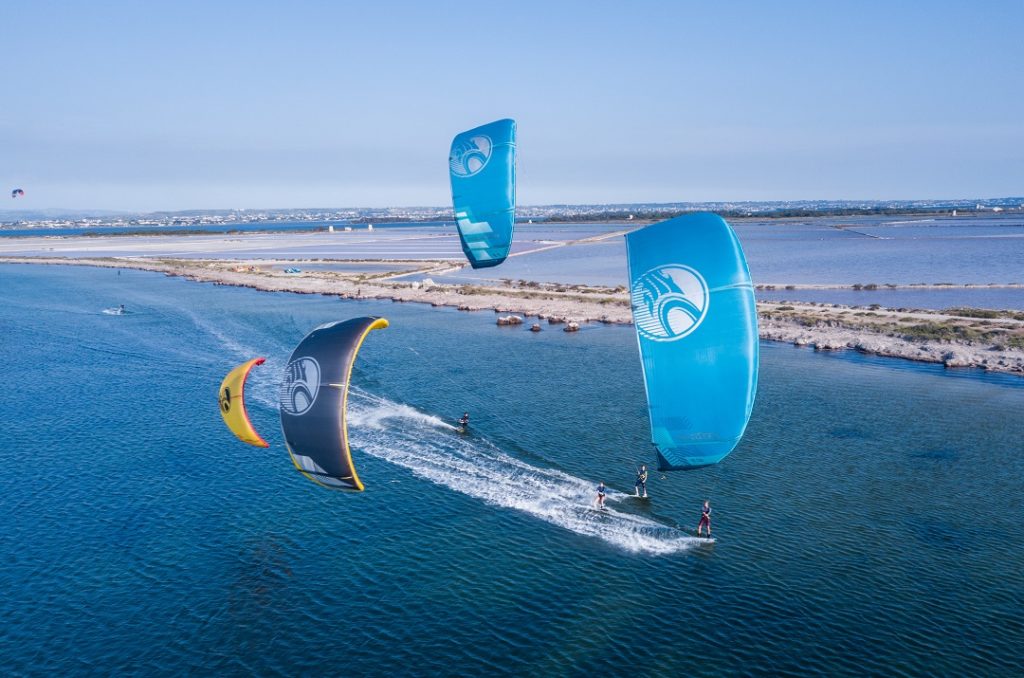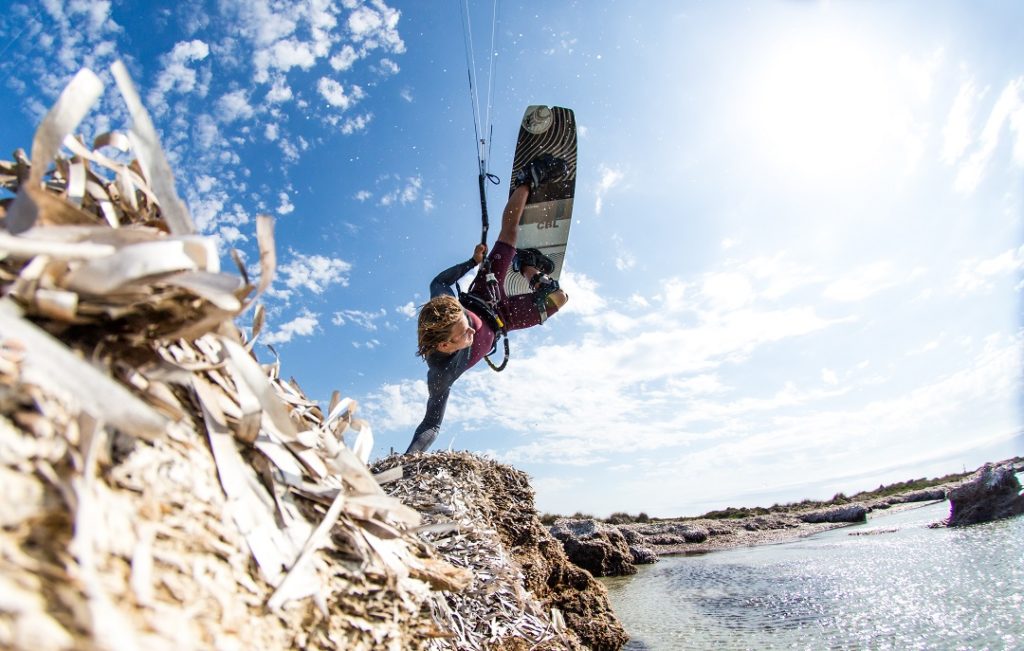 Lagoon Lo Stagnone in Sicily is truly unique place with amazing conditions close to Europe. Alby Rondina opened his kite center ProKite Alby Rondina directly at the beach together with hotel so feel free to find more info at www.prokitealbyrondina.com and pay us a visit!