Various elements of freestyle in kiteboarding may seem so vast, that you struggle to choose where to start. That's why we prepared for you our 11 favorite fun and easy tricks on twintip that you can try right after mastering the waterstart (well and going upwind of course..). You can try them weather you just started with kiteboarding, or if you are seasoned "freerider". All those moves will also serve as a perfect stepping stone for more advanced tricks, good luck!
Riding Toeside (Switch)
If you are getting bored with just a regular cruise, try riding switch! It's an easy and fun way how to spice up your session, plus it looks great on pictures, since you will be facing the camera upwind from you (that means you can get angle with your face and the kite!).
Trick 2 Trick: Just go downwind at first, get some speed and only after try to edge upwind
Next Tricks: Jibe, Jump rotations to Toeside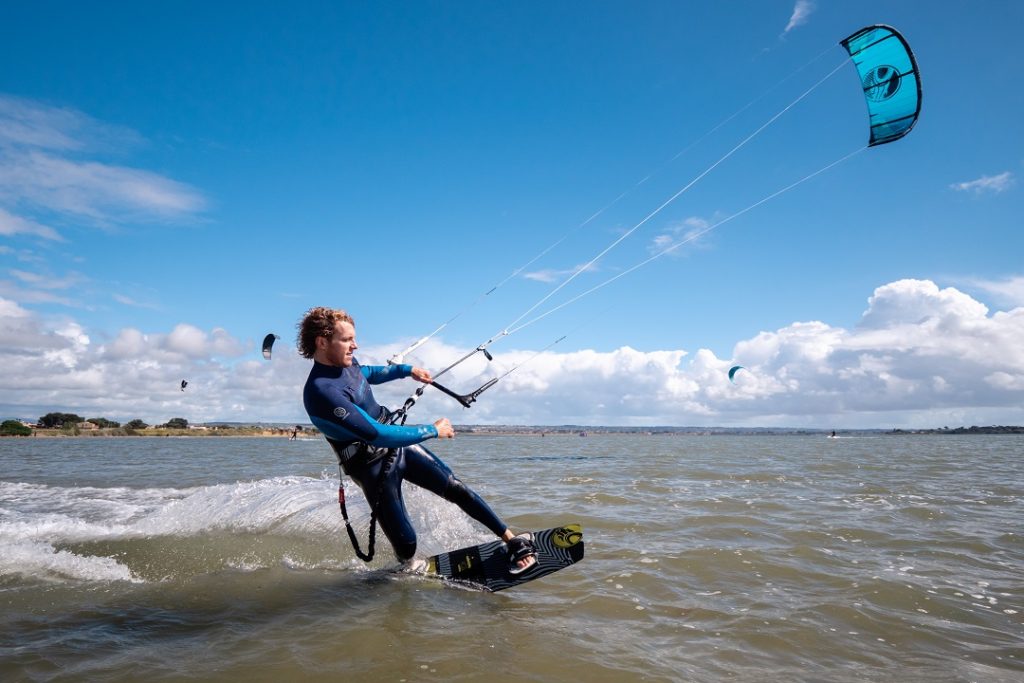 Butter
If you are comfortable riding toeside try this motocross-inspired move when you press on your back leg and make a short "manual". Works amazing with a butter flat water.
Trick 2 Trick: Do it first for the short time and with a lot of power
Next Tricks: Next step is taking out fins and go full butter on your edge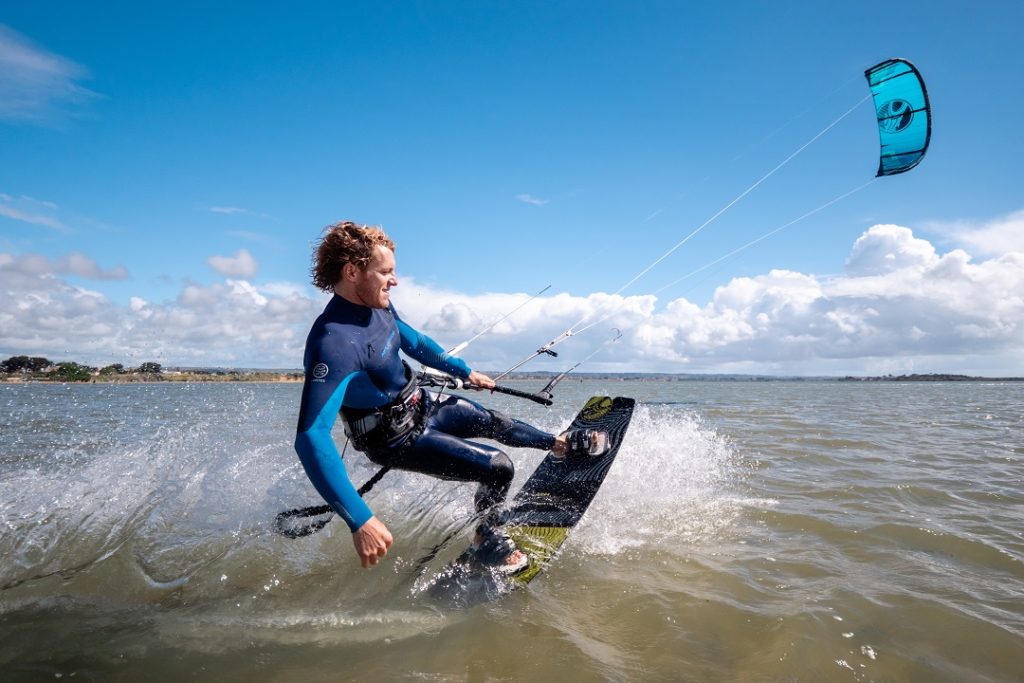 Jibe
Upwind turs are great fast way to change direction especially when you want to climb upwind but let's face it – they look super boring. What you need is a proper downwind turn with a huge carve and lot of spray from the water. You also need this move if you want to move on to the waves next.
Trick2 Trick: Come to the turn with a lot of speed, first start with jibe toeside to normal
Next Tricks: Jibe with a downloop, jibe normal to toeside, strapless surfboard jibe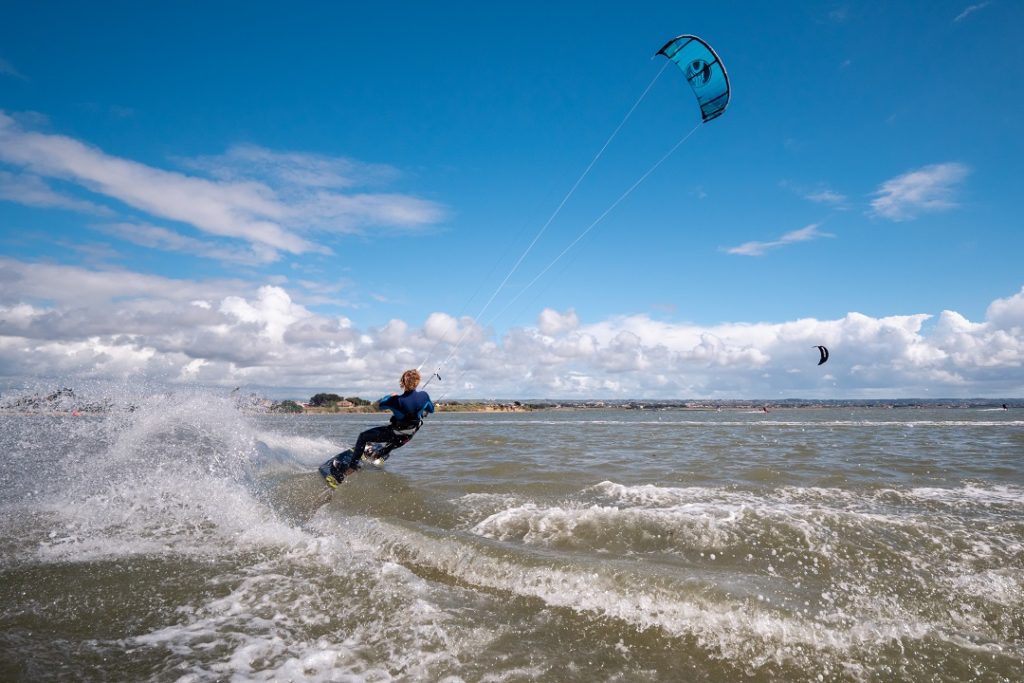 Downloop
After jibe you often lack power and the best way to get out with a lots of speed is to downloop your kite by pulling on your front hand. This is also an easiest and safest way how to try your first kiteloop, yay!
Trick 2 Trick: Go downwind before the loop and loop really hard and fast (so the loop don't pull too much)
Next Tricks: You can try it now in the air! Best with the landing from high jump or during transition jump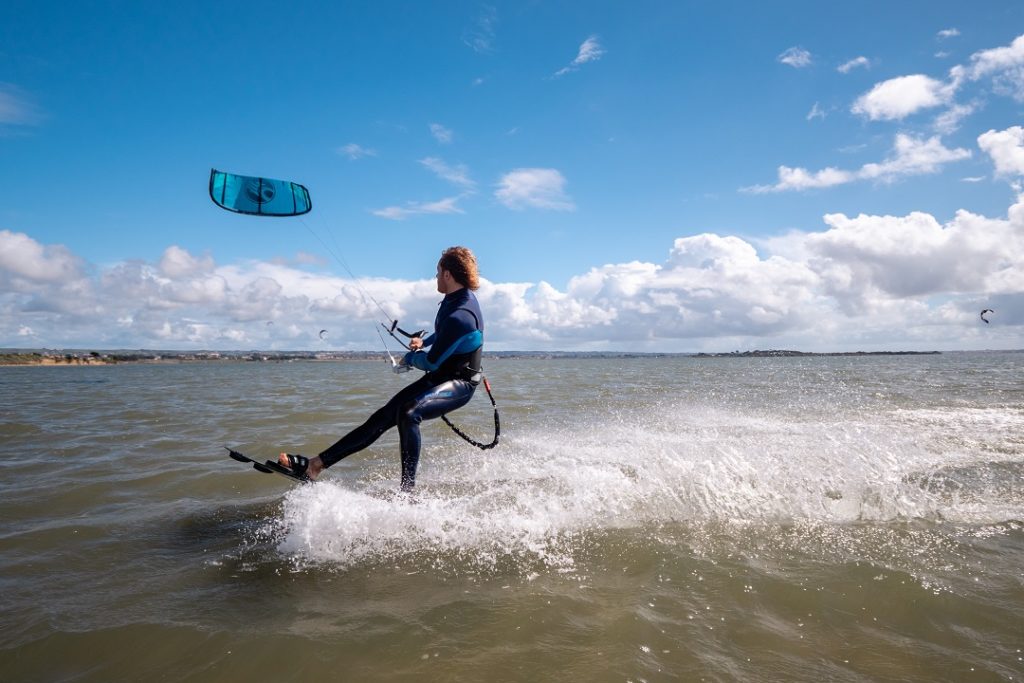 Backroll
Seriously, backroll is one of the easiest move in the kiteboarding, way easier to learn than complicated waterstart . If you haven't tried it yet JUST DO IT! Feeling of getting inverted and doing an 360 areal rotation is simply amazing and there is no other sport in the world which gets you such hype with so little effort.
Trick 2 Trick: Keep your front hand little bit forward and remember to pull it in mid air, so you steer the kite down
Next Tricks: Backroll to toeside, unhooked backroll, backroll with grab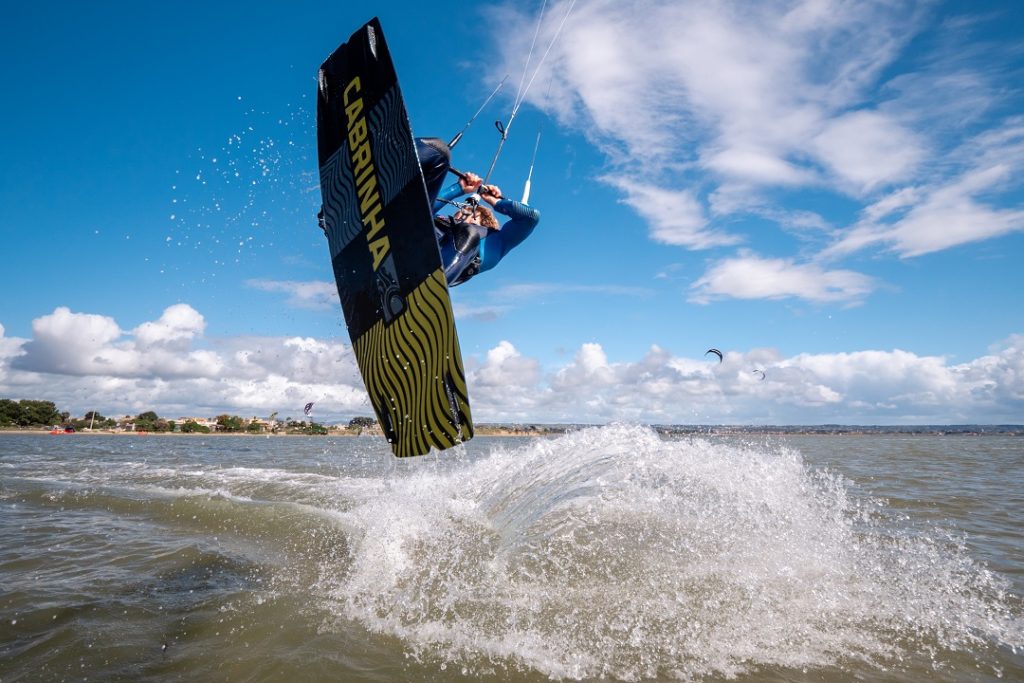 Frontroll
True, frontroll rotation is slightly harder than backroll, since you have to change your rotation after the takeoff (you sort of leading to backroll during the takeoff and after you have to change that). However it's a great feeling and works really nice with grabs so don't be afraid.
Trick 2 Trick: After takeoff start rotation by looking over your back shoulder, swinging your hands in same direction and bending your front knee
Next Tricks: frontroll with grab, high frontroll, unhooked frontroll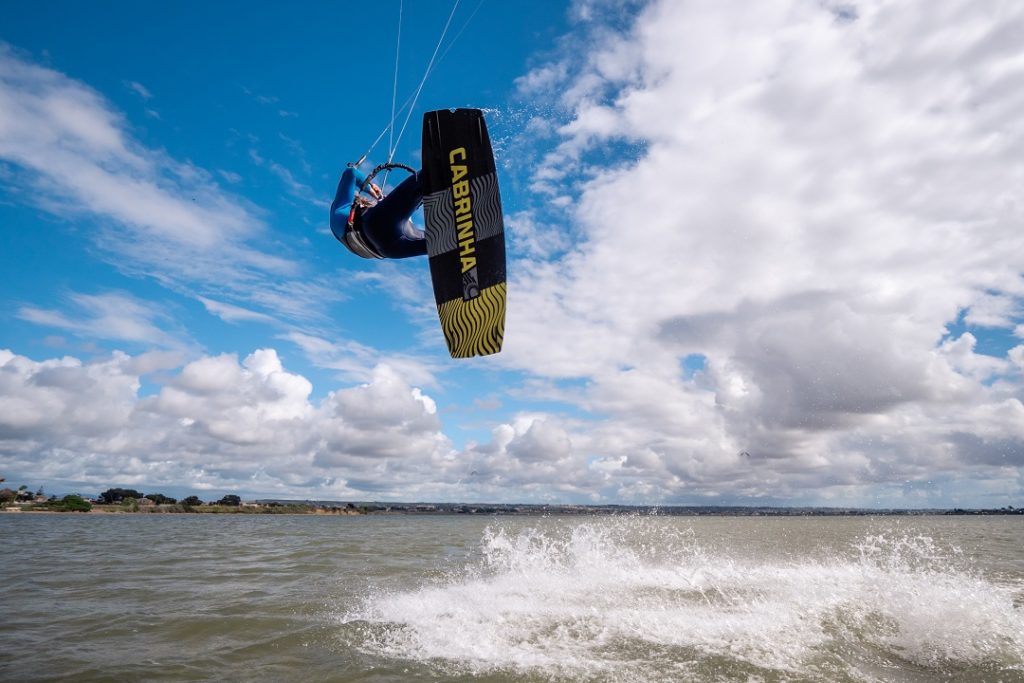 Jump Transition
If you want to make a turn next to a beach and impress your lady (or guy), there is nothing better than adding a little jump to it with a smile and wink in your face 😉 Make sure to edge harder than for a normal jump, so you loose the momentum of your speed in the air.
Trick 2 Trick: Wait with the kite at the 12 hour during the jump and send it down with the landing
Next Tricks: Backroll and frontroll transition, transition with a grab, transition with a downloop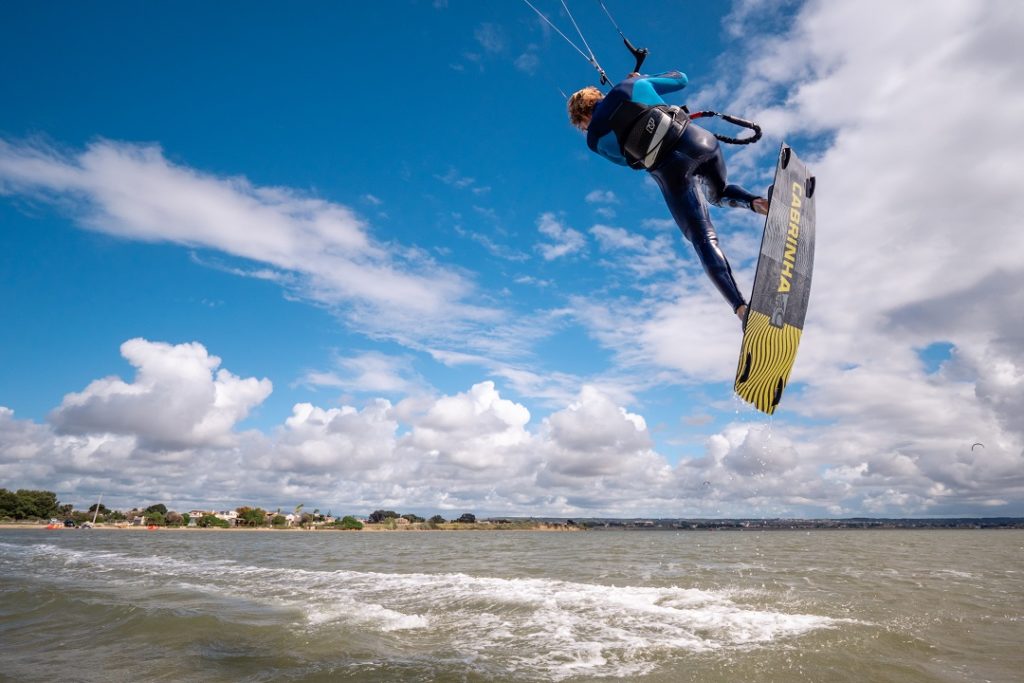 Backroll Transition
If you are interested in the tricks like darkslide or handdrag, then start with backroll transition and later try it with a loop. This move feels very smooth since its one continuous movement.
Trick 2 Trick: Same as normal jump transition, keep the kite high and send it down only with landing
Next Tricks: Add a grab, add downloop for more speed after landing, frontroll transition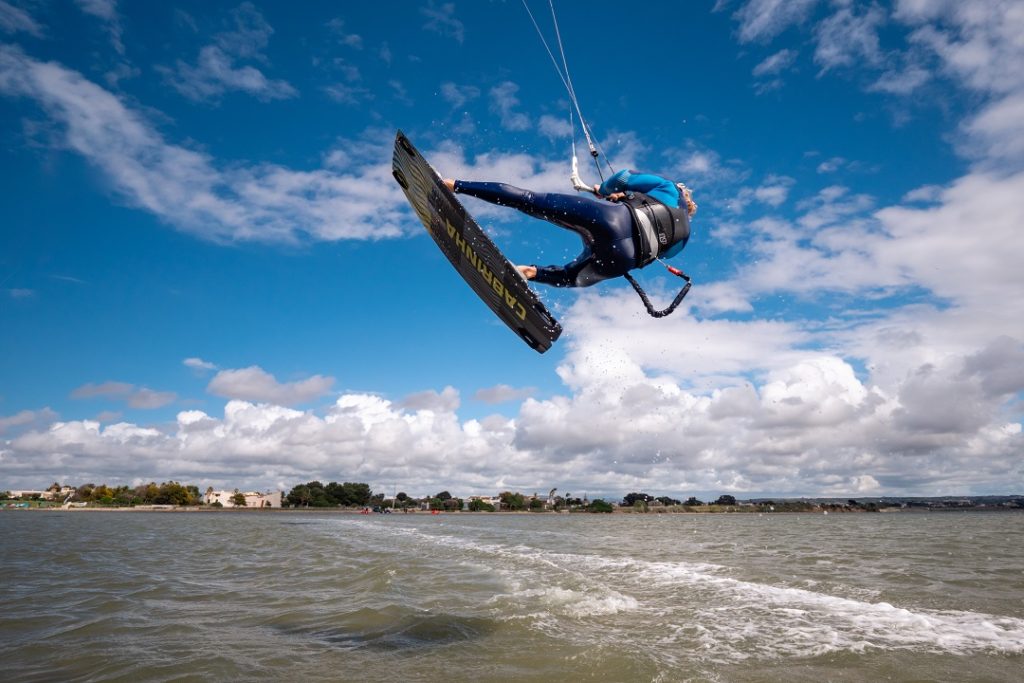 Pop with Grab (Melon)
One of the most common mistakes of kiteboarders is missing pop in their jumps. It's easy to get some air if you steer your kite up, but really if you add a nice pop you fly to the moon. So practice first just the pop without moving the kite ale also add a stylish grab, Alby's favorite is melon!
Trick 2 Trick: Keep the kite in the middle of wind window and pop hard and fast, then at the end of the pop make an ollie like on skateboard or snowboard
Next Tricks: unhooked pop with grab, try various grabs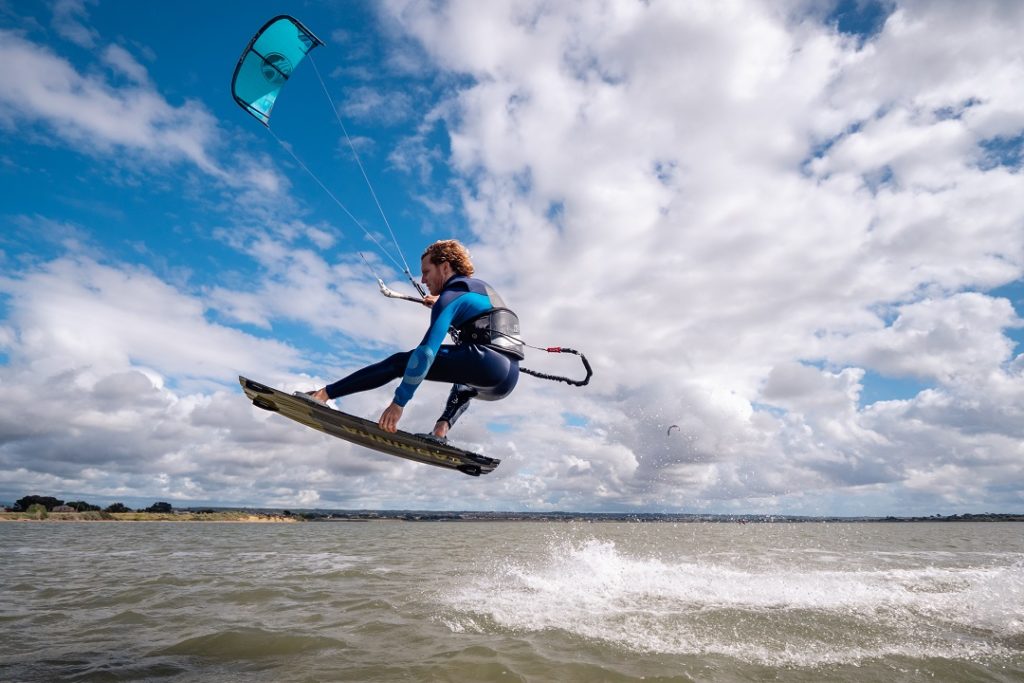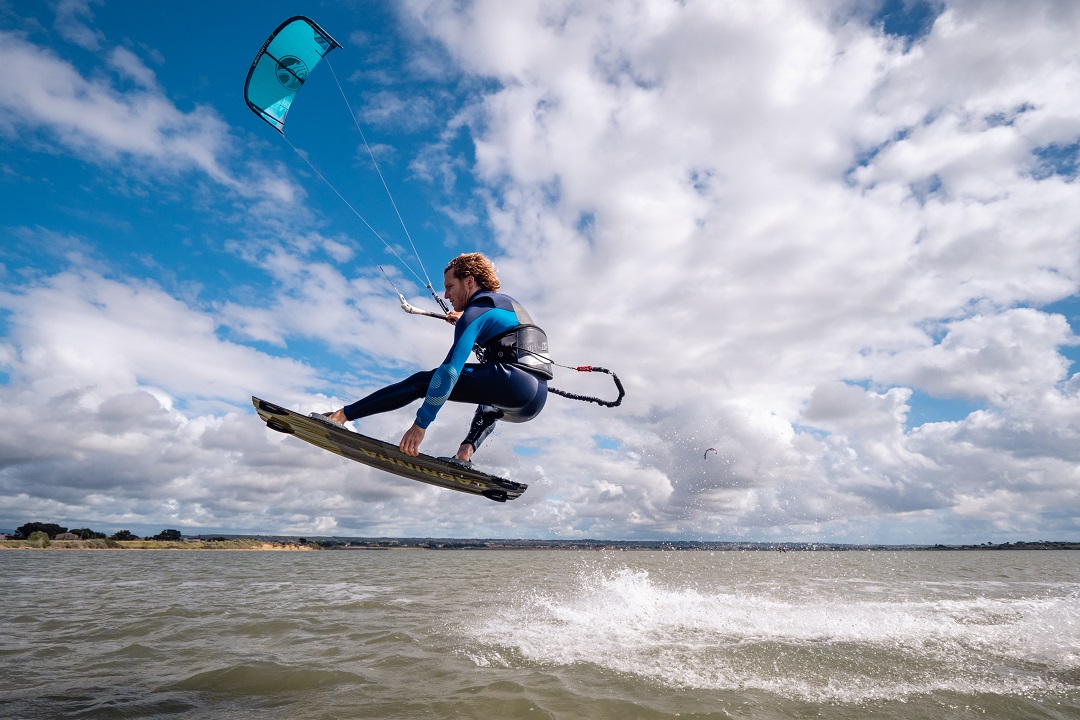 Jump with Grab (Tailgrab)
Big jumps without a solid grab looks wonky plus you are not really stable in the air. Secure you place in the sky by a nice grab, easier ones to start are back hand grabs, for example tailgerab.
Trick 2 Trick: Go for the grab later when you are stable in air, try to get your back foot to your hand by bending back knee and extending the front one
Next Tricks: Try various or multiple grabs, try those grabs with rotations, go higher!
Unhooked Railey to Toeside (Crypt)
So many freeriders are scared to try unhooked tricks because they seem complicated and dangerous. But if you follow few good advices you will be surprised how easy and fun they can be. First start with some railey hooked in and then try unhook. Landing toeside will add more style and prepare you for more advanced moves!
Trick 2 Trick: Once you start falling down, pull your front hand to your back hip to initiate 180 rotation, land riding downwind
Next Tricks: Backroll to toeside, railey to wrapped & many more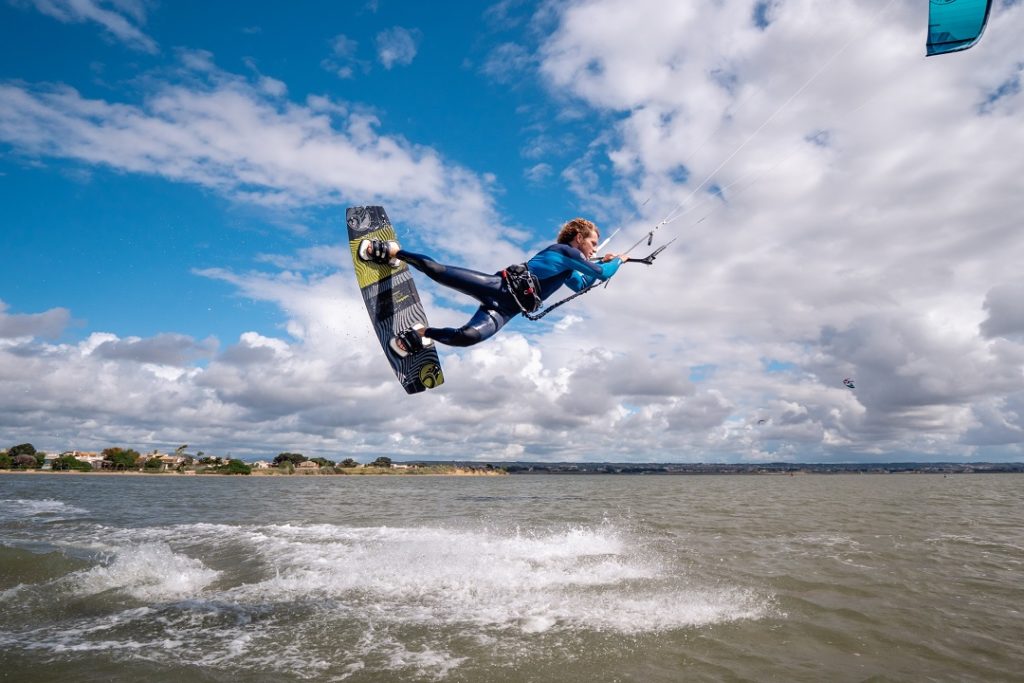 One thing that will help you a lot during your attempts for these moves are perfect kite conditions: stable wind and butter flat water. One unique place with such conditions close to Europe is huge lagoon Lo Stagnone in Sicily where Alby opened his kite center ProKite Alby Rondina. Feel free to find more info at www.prokitealbyrondina.com and pay us a visit!